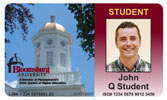 Identification cards are issued to all University students, staff and faculty and are intended to be used as the primary source of identification on University property and to provide a more secure University community.
Access to the residence halls is granted with your BU ID. As you enter the building, hold your ID up to the black strip located on the brick wall (you'll see it when you arrive). You don't need to 'swipe' your card; rather, it works off a proximity chip - so as long as your ID is near the strip it will unlock the front door. Some students leave their ID in the outer pocket of their backpack and hold up the backpack to the strip. Still works! The Card Center reminds students to hold on to your ID! A lot of privileges are granted with your ID including but not limited to access to your on-campus housing, dining facilities, rec center admission, library books, laundry, vending, photocopiers, mail services and even the Student Health Center.
As the primary source of identification, students are expected to carry their ID card with them at all times and to present it to the University police or other University officials whenever requested in order to maintain the security of the University and in the abidance of University policy. It is illegal to manufacture false ID cards or to deface, alter or knowingly use altered or false ID cards. It is also a violation of University policy to misrepresent yourself in order to ascertain a false ID card. Violators will be dealt with under the University's Code of Conduct.
ID cards are valid as long as student is matriculating, in good conduct standing and associated with the University. ID cards must be surrendered to the Student Life Office, when a student withdraws or otherwise leaves the University due to academic or disciplinary action. All changes or additions to this policy will be made available to all University students and personnel.