The Office of Residence Life is established to provide an educationally-based residential community which seeks to provide students with personal, shared, and academic experiences; unified by purpose and founded on mutual respect. This community cultivates involvement, enhances critical thinking, develops conflict resolution skills, furthers understanding and appreciation of differences, fosters a sense of identity, and promotes personal and civic responsibility.
We are resolute in our commitment to the following goals:
To cultivate healthy, meaningful relationships with others
To provide out of classroom learning opportunities that enhance life-long learning, student development, student success, and further their holistic education
To enhance student self-authorship by challenging existing thoughts, ideas, and behaviors while promoting positive
decision-making and self-discovery of their role within the greater community
To encourage students to have involvement, investment, and influence in their residential community
To enrich student engagement within the University and the local community
To support and enhance the academic mission within our daily practices
To understand and appreciate the diversity of each student's experiences and identities
To advocate for each individual to be comfortable in expressing their uniqueness and identity
To provide residential facilities that are safe, clean, and well-maintained
---
Core Values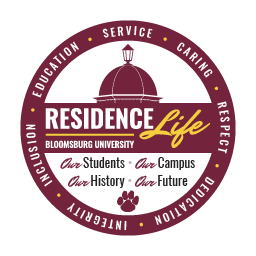 The emblem you see to the right represents the vision for the work that we do in the residence halls and apartment communities. The words in the outer circle represent the department's core values: Education, Service, Caring, Respect, Dedication, Integrity, and Inclusion. These words, and the type of effort and energy directed towards our students, encompass the type of philosophical orientation we expect from ourselves and all staff members associated with the Office of Residence Life.
The words in the bottom of the circle - Our Students, Our Campus, Our History, and Our Future - reflect the areas that we aim to honor as we carry out our mission of service to others. We are here to serve our students; their success provides the basis upon which we measure all else.