Your official BUID card is used to gain access to your residence hall, room, suite and/or apartment. Bloomsburg University uses different types of locking systems depending on how the lock will be used.
"Offline" Locks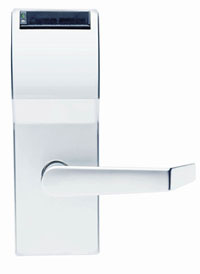 All on-campus residents bedrooms and front doors of apartments have a lock similar to the one shown here. These locks, know as "offline locks" or "Onity locks" are similar to those found in hotels. Offline locks are independently programmed to accept certain encodings on an individual's BUID card. These types of locks are easily recognized by the fact that they require you to insert the card into the lock in order to unlock the door. Each lock holds an audit trail of all card swipes that can be used for auditing purposes when there is an official request.
In order for a card to work it must be specifically encoded at the BU Card Center, JKA Community Center or in the residence hall that the cardholder is assigned housing. This encoding is done only after it has been specifically requested and authorized by the Residence Life housing department.
It is illegal to duplicate, knowingly misuse, or be in unauthorized possession of a BUID Card that is property of Bloomsburg University. Unauthorized use or possession of a master ID or BUID Card is grounds for disciplinary action.
Residents are expected to lock their rooms/apartments and carry their BUID card at all times.
Residents may not allow other individuals to access their residence hall, room, suite and/or apartment with their BUID cards.
It is important to understand that the Onity locking system is "offline" and will require the magnetic stripe to be physically encoded and/or the door to be properly configured before a card will work.
Learn more about the Onity Integra electronic lock system functionality, review the light indicator codes for functioning and problematic locks or if you have a question go to our frequently asked questions page.
---
"Online" and "WiFi" Locks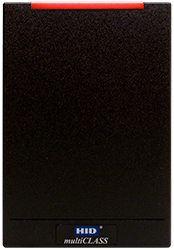 In on-campus residences, the "online" access system is mainly used on exterior doors, hallways and elevators. Access is automatically assigned to your BUID based on the housing assignment you see in MyHousing. Additionaly, "online" locks allow Card Center staff to provide instant access to an individual BUID card without the card needing to be physically encoded or the lock being updated.
Soltz Hall suite doors use "WiFi" locks which are similar to "online" locks but instead these locks get updates over our wireless network. As with "online" locks, access is automatically assigned to your BUID based on your housing assignment and Card Center staff can provide access remotely if needed. However, "WiFi" locks require a scheduled or forced update in order to receive changes.
In order to use "online" and "WiFi" locks, you simply hold your BUID in front of the reader for second so that the system can "read" the information embedded in the card and grant/deny access to that specific door.