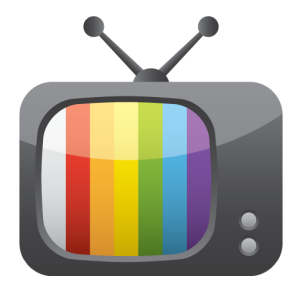 Bloomsburg University provides students with over 90 channels to choose from including high-definition and premium channels. Also included in with the campus television service for all on-campus residents are additional viewing options including access to HBO GO® and MAX GO® as well as Stream2 IP television.
We've also implemented a Campus Life Channel which provides the University community with information about current campus events, social media posts, news, weather and more.
Notice: Due to an ongoing contract dispute, HBO and Cinemax are not currently available through the television service. Students are encouraged to use the HBO GO® and MAX GO® apps to view premium channels.
24/7 Digital TV Service & Support
Digital Television Requirements
In order to receive channels via the University provided television service, a television must contain a QAM (quadrature amplitude modulation) digital tuner. Since 2006, most major television manufacturers have installed QAM digital tuners in their products. However, some budget televisions and manufacturers may still not have this capability. Some TVs that have shown the incompatibility include certain models manufactured by Element, Sansui, Seiki, and Orion as these televisions do not receive some or all available channels. Please check to make sure your television is compatible with our campus service.
If your television does not support a QAM tuner, you have the option to purchase a digital conversion box. Like a TV, you must make sure that the conversion box includes a QAM tuner such as the ATX VMX1-1*.
After you connect your television to the campus service, please make sure to run the auto program feature to ensure your television receives all available channels.
* Residence Life has not tested this device, we are merely showing the type of device you will need to purchase
HBO GO® and MAX GO®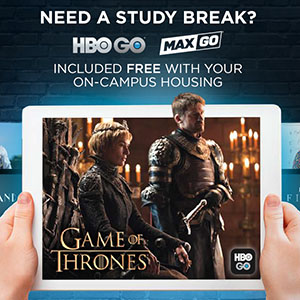 All currently enrolled students residing in on-campus housing have access to HBO GO® and MAX GO®, giving residents instant, unlimited access to HBO® and Cinemax® programming anytime, anywhere at no extra charge.
Thousands of titles, including classic shows and new favorites
New episodes of best-loved shows and hit movies as the premiere on HBO and Cinemax
To use HBO GO® and MAX GO®:
Click "Sign In" and select "Bloomsburg University of PA" from the dropdown menu.
Follow the prompts and enter your HuskyID and password you use on campus.
Notice: HBO GO® and MAX GO® are available anytime, anywhere — on or off campus. Game consoles and connected TV devices can only be used on the campus network.
Stream2 Streaming Television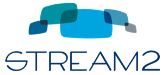 Bloomsburg University on-campus residents have the ability to watch live TV and sports on your computer, tablet and phone anywhere on campus with the Apogee Stream2 app.
To use Stream2 IP:
Mobile:
Computer:
Search for "Bloomsburg University" in the search institutions box
Enter your HuskyID and password
Watch TV!
Notice: You must be connected to the campus network to use Stream2.