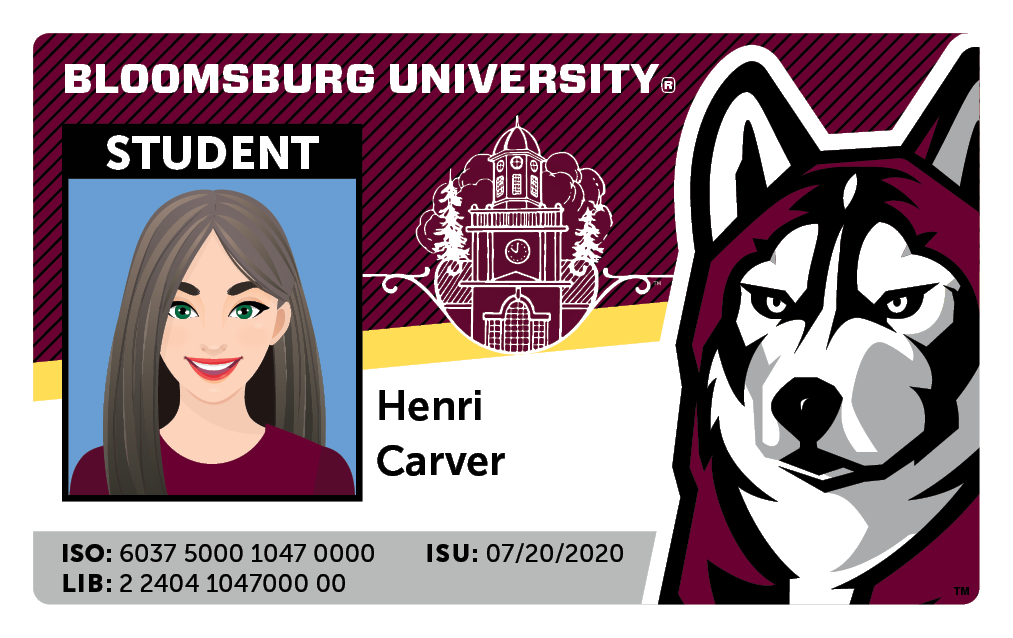 The University Card Center allows students to submit photos for their Bloomsburg University ID card through an online submission portal. Students will receive an email in their Bloomsburg University student account with information on how to complete the process.
Photos will be accepted if they meet these requirements:

taken recently to reflect your current appearance
high-quality
full-color
solid white or another light-colored solid background
head straight, facing directly at the camera
neutral facial expression or natural smile
eyes open
one-person per photo
cropped from just above the head to just below the collarbone
file format of .jpg, .png or .gif
file size not exceeding 3MB

Photos will be rejected if they are determined to be/have:

poor quality, blurry or pixelated
black and white, tinted, filtered, retouched or otherwise enhanced or edited
dark, textured, patterned or scenic backgrounds
head tilted or facing away from the camera
funny facial expressions
eyes closed
other people, pets or objects
incorrectly cropped
too dark, too light or having shadows
professional, copyrighted or watermarked
hair, clothing or accessories which obstruct any part of your face

including but not limited to masks, sunglasses, headphones, hats or other headwear; unless required for religious or medical purposes
Submission Steps
Look for an email in your Bloomsburg University email account with the subject "BloomU ID Card - Photo Submission"

Email will be from no-reply@transactcampus.com

Read the instructions and requirements for the photo submission.
Select a recent photo of yourself which meets the photo requirements.
Click on the "Submit your photo" button at the bottom of the email.
Upload your photo to our online application.
The application will process your photo and provide an initial review status based on basic photo requirements.
If your photo passes the initial requirements, click on the "Submit & Sign out" button under your photo to submit your photo for final review, otherwise, select a different photo and re-submit for processing.
When will I receive my BUID?
Students who will be living in one of our on-campus residence halls or apartment complexes will receive their BUID when they check in during move-in. Students who are not living on campus can pick up their BUID cards at anytime the Card Center is open beginning on the first day of the semester.
Example photos
Example photos that would be approved:
Example photos that would not be approved: